Lady Gowrie News
Unleashing leadership at every level
Unleashing leadership at every level
by Melissa Johnston, Anglicare NSW South, NSW West, and ACT Anglicare at Franklin Early Childhood School
My most vivid memory of separation anxiety was when my mum dropped me at preschool for the first time.  I remember holding on to her while the preschool teacher tried her best to distract an introverted, shy four-year-old. This behaviour continued for around six months, until I finally settled in and felt that I belonged to the group. However, the anxious behaviour returned when I moved to kindergarten.  In fact, this anxiety when faced with significant life transitions has continued throughout my life.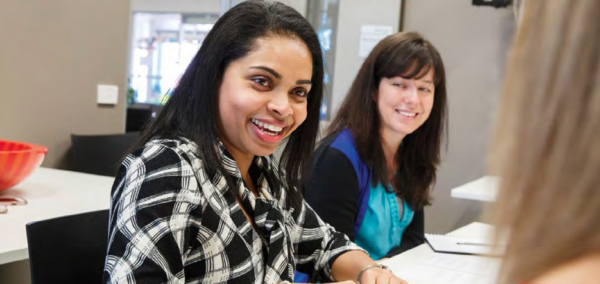 Today I recognise the feelings and consciously push myself to be more courageous in challenging situations.  This early experience has helped shape my drive and passion as an early childhood director. It's important for me to make sure that every individual— child, educator, and family member—feels safe and secure enough to grow and thrive.
I want to empower every team member to lead with courage, regardless of their position in the organisation or team. In my experience, the most successful teams are ones that continually strive to create environments where people feel confident enough to share and contribute.  So, how do we go about creating environments like this?  A fundamental challenge is remembering that all people are unique in the way they are brought up—their culture, religion, personality, and needs. The complexity of every individual presents a challenge to organisations that are seeking to create transformational places of learning and connection that champion inclusive practice.
We all need to feel part of a community, whether that be at work, family, sports clubs, or school. When I joined Anglicare seven years ago, I immediately felt part of the team, with my own personal values strongly aligning with the values of Anglicare. These values are compassion, dignity, inclusiveness, and integrity. Encouraged by this ethos and championed by a director who supported and believed in me, my own leadership journey commenced.
Our visions aligned and we were able to utilise the strengths of people in our team to provide best outcomes for all our families, children, and educators. We did this by beginning with a shared respect for the intrinsic worth of every person and acknowledging everyone's capacity to contribute and lead. My director and I chose to interact with and influence the team in a positive and constructive way, and sure enough, leadership qualities began to be unleased in the team members—and in me!  From initially working school hours as a room leader to fit in with my family's needs, I then moved to a new role as Assistant Director/Educational Leader. Today I'm the Director of Anglicare at Franklin Early Childhood School, which is a large and diverse service attached to an early childhood school.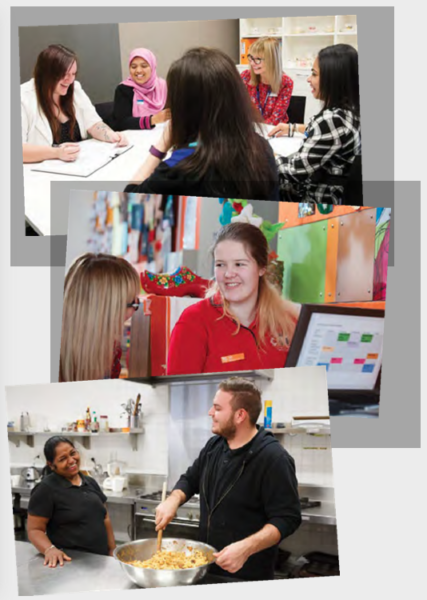 At Anglicare at Franklin Early Childhood School, one very real issue that needed to be addressed was how to encourage the staff members that continually felt like outsiders. These incredible team members would often become introverted and talk about feeling as though they couldn't contribute, either in the workplace or in society. I could also see that several educators would sit silently and not participate in staff meetings.   I knew they all had a lot to share, as I'd observed the positive interactions and relationships they had with the families and children at our service. To assist this situation, I started using smaller room meetings, so staff felt more comfortable to share and communicate. We talked about the diversity of the team and identified that it was a strength. By articulating, as a group, the power of our diversity of cultures and backgrounds, changes began to happen in individuals, the Team, and the service. I encouraged people to share their interests and experiences, to develop new ideas to bring richness to our centre. Because of these open discussions, we now have an onsite yoga teacher, IT experts, Workplace Health and Safety experts, Mandarin teachers, Makaton teachers, Italian teachers, Hindi teachers, knitting instructors, art teachers and an array of cultural advisors, all sharing the same vision. At Franklin, everyone is respected and heard, and all our staff are encouraged to be leaders who are motivated to provide best outcomes for the children in our care.  Everyone at Franklin is treated with respect, with the traditional organisational hierarchy remodelled to emphasise a bottom-up approach that allows educators to have a voice in idea generation and an influence in decision making.
An important foundation of empowering educators at all levels is to employ the right people. The right people at Franklin often means employing bilingual staff members—currently 35 countries and 47 languages are represented in our service. Many of our educators hold multiple degrees from overseas and come to Australia for many reasons—often for a new start. Our leadership team consists of two assistant directors and an educational leader. We ensure new employees have a strong knowledge of how we do things at Franklin. This includes alignment with our vision, adherence to quality standards, policies, and procedures, and demonstrating gratitude practices.  Our leadership team mentors new staff through visual and written platforms. 'Leadership at every level' at Franklin means an understanding that leadership is an action, not a position. Our leadership team meets as often as possible, typically weekly, to collaborate and plan. We then focus on room meetings, and room leader meetings, to share, communicate and collaborate.
A few sayings that are common at our meetings are, 'feedback is a gift', 'what you walk past today, you will see tomorrow', and 'if you come with a problem, share your solution as well'. When someone comes to our leadership team with a problem, instead of fixing it, our response will be to look at quality improvement options. We seek to find solutions by collaborating and evaluating the options. This allows us to create a holistic solution to any potential problems, rather than a simple 'Band-Aid solution' that doesn't get to the heart of the problem. It's only through the collaboration of the people who are directly involved in the issue that we can truly create a solution to help support the development of the children we care for.
We believe one person doesn't know all the answers, but together we will collaborate to continually improve our practices to meet the needs of our diverse community. With strong support systems in place and a shared vision, all educators can be leaders who are encouraged to continually develop their own authentic leadership style and identity.
Melissa Johnston
Anglicare NSW South, NSW West, and ACT Anglicare at Franklin Early Childhood School
Article Extract – Every child Volume 24, Number 2 2018
Share me: